EDEIS airports are partners of the ExecuJet global network of Fixed Base Operations (FBOs).
ExecuJet operates 23 FBOs across Africa, Asia-Pacific, Europe, the Middle East and the Americas and is a member of The Paragon Network® with a further 88 FBOs globally.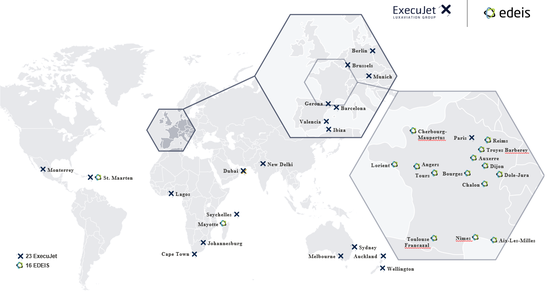 ExecuJet, a member of the Luxaviation Group, is committed to providing top-notch facilities and services to business aircraft, passengers, and crew across all five continents. The company is widely acknowledged as a trailblazer in ground handling, with a lengthy and robust track record of operational excellence that has consistently delivered the highest levels of safety and service excellence, garnering numerous awards in the process.
The partnership between ExecuJet and EDEIS aims to deliver bespoke FBO services to business aviation customers at EDEIS Airport locations.
VIP Passenger Services:
Presidential, VIP and diplomatic flight coordination
Customized welcome 24/7 on request
Private VIP lounges, facilities and amenities
Concierge support
Crew Services:
Private crew briefing and rest facilities
Complimentary refreshments and WiFI
Crew transport and accommodation arrangements
Aircraft handling:
ATC and Airport Slot Coordination
Flight planning, weather and NOTAMs
Fueling
Adequate ramp and /or hangar parking
Catering arrangements